2017 DDSR Scholarship Program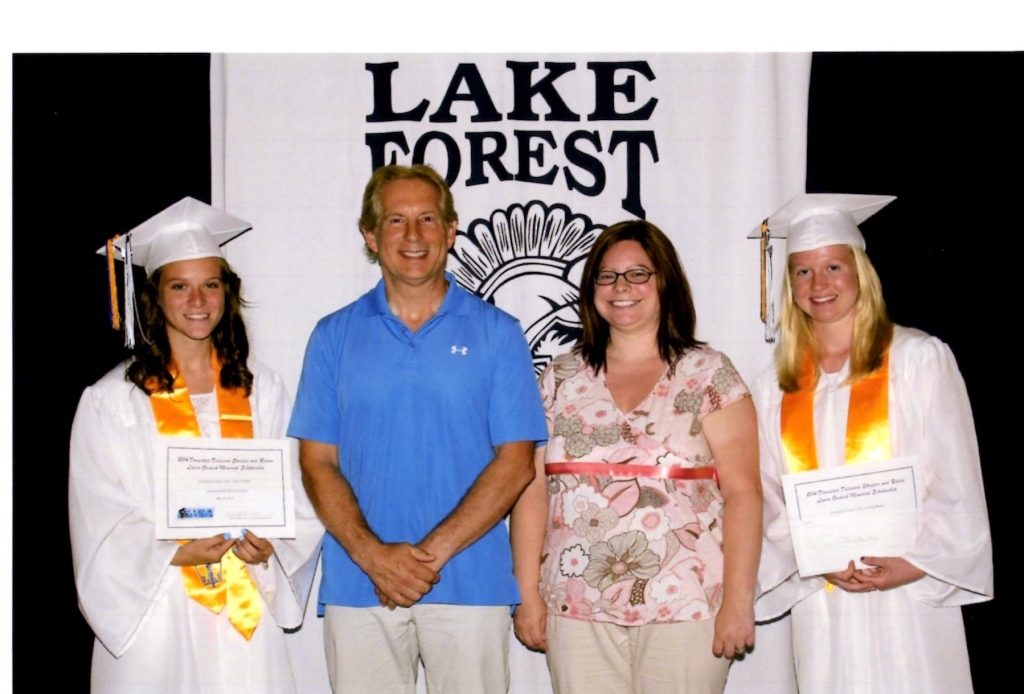 The 2014 winners of our Laura Gondeck scholarship are Taylor Rosser and Ashley Mogle, both of Lake Forest High School. They are pictured with Mike Gondeck and Jessica Gondeck Abernathey.
---
The Downstate Delaware Striders and Riders are pleased to announce that the club will be awarding scholarships again in 2017. This year's scholarships will be in memory of two different club members, Laura Gondeck and Addie Lessard. There is a total amount of $3,000 in scholarship money to be awarded this year.
Laura Gondeck was a club member who enjoyed running. She died in 2010 during a 5k race at Killens Pond State Park at the age of 45. A holiday race in her honor is held every December in Dover. It is the Share the Holiday Spirit 5k.
Addie Lessard was a long time club member who died in 2013. He was the club's Renaissance Man who loved to share his many insights and passions. The Frozen Buns Run, held in February each year, is a wonderful run/ picnic that has become a club tradition. Addie was a driving force behind the inception and organization of this event.
The deadline for scholarship application is April 1, 2017.
Eligibility for Both Scholarships:
Graduating from a Kent County Delaware high school.

A member of a cross country or track team for at least two years.

GPA of 2.75 or higher.

Accepted at a two-year or four-year college.

Verification of the above four items.

Letter of recommendation from your coach.
PLUS:
Laura Gondeck Scholarship: Please include an essay of no more than 500 words describing how participation in
physical fitness has enhanced your educational experience and how you plan to incorporate it in
the future.
Addie Lessard Scholarship: Essay of no more than 500 words describing a passion of yours and how you share it to help others.
Please send your information along with the completed information sheet to:
DDSR
P.O. Box 1379
Dover, DE 19903
Or you may submit your application online by completing the form below and attaching your recommendation letter and essay.
Questions? Please contact Mary Walsh.
Scholarship Application
*Indicates required field