From casual athlete to serious competitor
The Downstate Delaware Striders & Riders (DDSR) are a group of men and women who enjoy running and cycling in Kent county. The club includes runners and cyclists of all abilities ranging from those who pursue running and cycling purely for enjoyment, to those athletes who compete seriously in area rides, road races, duathlons and triathlons. Membership is open to anyone with a recreational or competitive interest in running or cycling.
Check out the benefits of joining. You can complete and submit an online membership form and mail in your payment. You can also join our e-mail list.
---
Train to run a 5K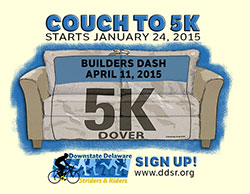 Our Couch to 5K program Become a runner!Start the New Year off with a goal worth running for! Our Couch to 5K program begins January 24, 2015, and is a great opportunity to learn to run, train for an actual 5K race, and be coached by experienced runners.
Learn about it and register on our special page. Our 5K will be Habitat for Humanity's Builders Dash on April 11, 2015 in Dover.